Dirty Racer
Mercredi, 20 juin 2012
Type: Last year project at Supinfogame
Genre: Arcade Racing Game
Players: Exclusively multiplayer (8 players)
Platform: Prototype on PC (Crytek Cry engine Editor) + Xbox360 controler
Main position:
Other positions:
Game Designer
Level Designer
Level Builder
3D modeler
Team: David Grivel, Julien Jourdain, Guillaume Benoit, Romain Bilard, Nicolas Vandelannoote, Sylvain Billaud.
Teaser:

Presentation:
→ Dirty Racer is my last year project at Supinfogame. The project has been judged by professionals, and the prototype has been presented at the Siggraph video games exhibition.
It is an arcade multiplayer racing game, exclusively in cockpit view.
In Dirty Racer, you really have to take care about your windscreen! The visibility is a very important part of the concept and most of the features  (Different types of fields, bonuses, gameplay interactions) are connected with it.
It is very important for players to manage the visibility, which is linked to the speed: They regularly have to do the good choice between using the windscreen wipers to have a better view on the track or continuing the race without a good visibility but with a great speed, some useful bonuses and other possibilities like puting the head outside of the car!
We added some other features like the 'active spectator' which allows players to have an influence on the race even if they have been eliminated when they were driving, instead of waiting for others to finish the race.
About the production:
What I have done :
- Project Management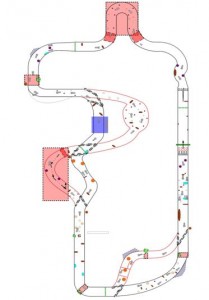 - Team Management
- Planning and Tasks
- Game design
- Level Design and Level Building on the Cry engine
- 3D models
- Organization of the production, meeting presentation
→ My main job on the project was to manage all different aspects of the production: I did the planning, I created and distributed tasks, and I organized the work in team. But all members of the team worked on the Game Design, and on several other aspects. So, I worked on the Game Design concept and design documents, and on the level design.
I also did a huge part of the Level building with the Cry engine editor, and some 3D models.
I consider that the experience on Dirty Racer was really important for my professional career.
Indeed, we did everything, from the conception to the end of the production. We were students, so we didn't have a lot of resources: It was not so easy to respect the planning and to manage the creation of a very funny and playable video game. But we did it ! With a lot of organisation and passion ! Every decision was taken in team.  It was a great team work experience and everybody was passionnate and learned a lot.
I think that we worked with a lot of solidarity during that project, and the final prototype, far to be perfect, is good and fun as we expected.
Trailer:
Professionals' Opinions:
→ Here are some opinions about Dirty Racer from professionals:
« I've just played a couple of rounds alone – soooo awesome. All the nifty specials you have added to the races and all the details you've implemented. I really really enjoy it. Will play a few races against my colleagues after 6pm ^_^ » Alexander Marschall, Crytek Gmbh
« That's awesome! » Marco Mele, Arkane Studios
« Feels like Motorstorm / Burnout, with an interesting delimma between taking risks and the speed » Olivier Dauba, Ubisoft Montreuil
« Definitely really really fun! » Philippe Blanchet, Supinfogame
« The prototype is of great quality » Marc Albinet, Phoenix Interactive
« Impressive Prototype! » David Téné, Supinfogame
« The realisation is of a great quality, a real complete game with the final gameplay, which proves the control of the production by the project manager« Stéphane Bura, Elsewhere entertainment
« Professional team, who really controlled all the production management. Nice work » Anne-Marie Joassim, Answers Recruitment
« There is a lot of work which has been put in this project and we can see it in the final prototype » Nicolas Gavet, Science & Vie Junior
« Original concept, a lot of good ideas » Gregory Sandt, Supinfogame